Wilson Hodder 1949-2000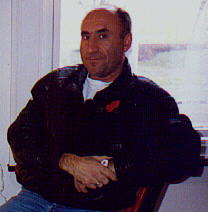 Wilson Hodder, born in Ireland's Eye, Newfoundland, died at 51 of complications due to AIDS, at home in Eastern Passage, Nova Scotia, surrounded by friends and caregivers. In May 1999, Wilson was one of the first two men in the country to qualify for same-sex spousal survivor benefits under the Canada Pension Plan when the federal justice minister acknowledged to a tribunal that the rules are discriminatory.

Below are some links to large-ish pics of Wilson's ash ceremony at Crystal Crescent Beach. Click on the first one to enter the slideshow at that point.


DSC00331

DSC00332

DSC00333

DSC00334

DSC00335
---
Slideshow code by Daniel MacKay, based on ideas from Gustav Evertsson