Heddy's Singer Featherweight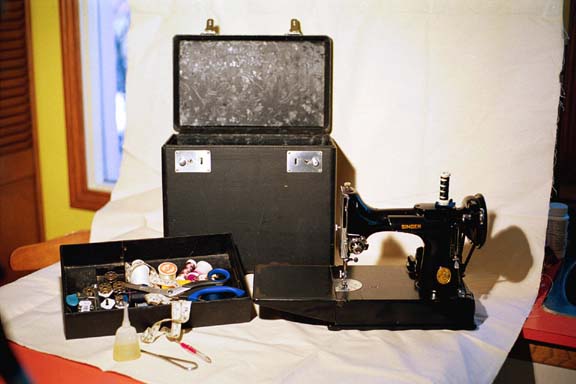 My FW's story tracks that of my mom, who met a handsome Candian soldier while he was serving in Belgium in 1943. He brought her to Canada, they married and bought the Feather while living briefly in Toronto before moving back to his tiny home town of Barrington Passage, Nova Scotia. Three years later she was suddenly widowed, with infant Michael and two-year-old Gary, in a big house with only inlaws a couple miles away, barely speaking English. She supported herself and my half-brothers with that Featherweight, doing alterations and making dresses, for many years until she married my father, an itinerant welder who was boarding in one of the many spare rooms — but that's another story.
This Featherweight is scratched, its decals are worn where she steadied her hand on the bed. The flywheel is very chipped and the stitch length indicator has a deep notch worn at "10" where she flipped it up and back a million times to backtack a seam. It wasn't babied the for the first fifty years of its life; it carried a family instead.
It wasn't until I got the FW from my dad, a few years after Heddy passed away, that I realized the sound of the presser bar lever being flipped up, is one of the comfort sounds from my childhood. Hearing that ka-CLUNK means she's nearby.
The FW is tiny; its carrying case measures just 12" high, 13" wide, and 8" deep including a tray for thread, scissors, sewing kit, tools and accessories. It's an amazing piece of 1930s engineering and much-loved by quilters, generally regarded as the best for "piecing;" it does the nicest straight stitch of any machine ever built, is quiet and vibration-free, and is very portable. Mom's machine's serial number, AH332363, indicates that it was built shortly after October 28th, 1947, in St. John's, Quebec.
I learned to sew on this machine when I was a toddler, and Heddy continued to use it regularly until she died in 1997. In May 2000, my father gave it to me. I gave it a thorough cleaning and oiling, and it sews as well as when it left the factory. I've used it for repairs, making Hallowe'en and party costumes, and lots of small sewing projects.
| | |
| --- | --- |
| In April 2003 a couple of very good friends sold me their Featherweight 222K, which is what I now use for most projects. here is its web page. | 2007-10-28: Mike and I take Heddy's FW to Mollyz to celebrate its 60th birthday. |
---