---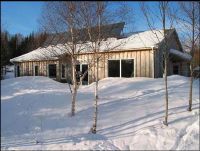 Richmond County, NS
Strait Area
Keywords: active, dhw, hydronic space heating, passive, pv, thermodynamics
Size:

2000 sq ft, 1 baths, 3 bedrooms.

Energy Percents:

% passive, % active, % external

External Sources:

Electricity: 3588 KWh, Propane: 1375 L,

Cost & Value:

Cost: 185000, Assessed value: 144000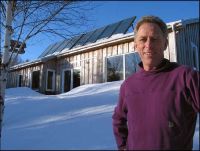 Purpose
Home for family of three with home office. Was designed as wheelchair accessible for resale value and future plans.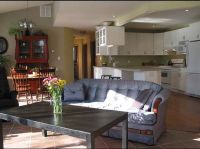 Lot Characteristics
South facing, overlooking river. Scruff trees which must not be cut near river.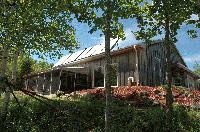 Description
Wood frame on slab. Single level Roscoe design. Any cement in the building is on the interior of the exterior insulation. Can be built locally with local materials by local craftsmen. White hemlock board on board exterior - no paint required. Use propane for cooking, dryer, and backup for space heating and dhw.,

This home won "Most Energy Efficient Home in Canada 2004" from the federal Natural Resources department's Office of Energy Efficiency.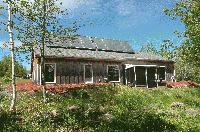 Suppliers
Thermodynamics, PV system from Seimens/Shell, Xantrex/Trace inverter
Installers
Sun Ross Energy
Viewing
Phone for appointment 625-1539
What would we do different?
So far (knock on wood) nothing.
---
---

Send comments about this page to: info@solarns.ca