---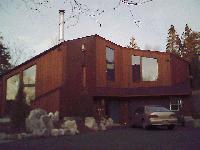 Halifax County, NS
Porters Lake
Keywords: active, dhw, passive
Built In:

1998

Size:

2800 sq ft, 2.5 baths, 3 bedrooms.

Energy Percents:

25 % passive, 35 % active, 40 % external

External Sources:

Wood: 4 cords,

Cost & Value:

Cost: 300K, Assessed value: 250K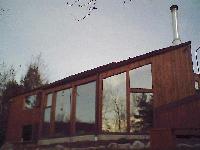 Purpose
To build a modern and efficient home that utilized solar gain as much as possible. Due to our location and the risks of power outages, we wanted to have the ability to have the home off grid during short periods (1 -2 days)in the winter and be able to keep the home at a comfortable temperature.
Economics & Performance
In the seven years we have lived in the home we have never burned more than 4 cords of wood. We do not heat the home with any other external fuel other than the solar panels. The only cost associated with running the solar panels is a small electric pump to circulate the water through the floor.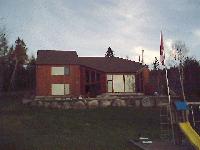 Lot Characteristics
General northern view plane with a slope that runs down to the north, good unobstructed southern exposure, good orientation of home to due south but unfavourable ground slope for passive glazing orientation.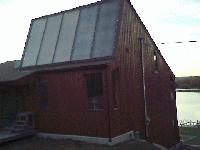 Description
This is a Don Roscoe designed home. It utilizes passive and active solar components. It has the following design features: -9" insulated monolithic slab, -timber construction., -The slab acts as a thermal mass as it contains both air circulation ducts and infloor radiant heat provided entirely by solar panels., -The home has a minimal southern exposure due to the design and the slope of the land Thus,, -Active solar panels, 200 sq ft, were built into a solar shed that was built on the southern exposed roof. These panels are used to heat the floor in the winter and the DHW in the spring summer and fall., - triple pane low e Argon filled glass on all fixed Northern windows, -2 x 6 walls with fiberglass insulation and an additional layer of R5 insulation completely enclsing the structure thus breaking any single conductive surface, - open concept design with cathedral ceilings in most rooms, - return air plenum is located at the highest point of the main living area and the distrubtion of this air is through the insulated concrete slab, thus we achieve a good thermal storage mass in the floor, - DHW is supplied by the solar panels in the spring summer and fall and electricity in the winter, - A wood stove provides sufficient energy to maintain a comfortable living environment,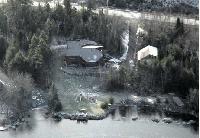 Suppliers
Don Roscoe - Home design & build, Thermo Dynamics - Solar DHW, and connection to infloor
Viewing
Contact me directly to arrange an appointment shines at accesswave dot ca
What would we do different?
More space in the mechanical rooms, move all mechanical systems to the main floor, move DHW tanks to the main floor, put in more infloor heating loops, install a seperate on-demand backup heat source.
Other Data
systemdiagramavailable
on
---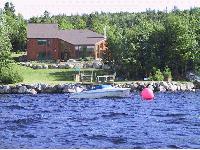 ---

Send comments about this page to: info@solarns.ca